The Forbush Memorial Library serves the Town of Westminster as a center for education, culture, recreation and information provided through its collection of materials and by making available technological resources both at the library and by remote access. The library also provides access to programming and serves as a community gathering space for people of all ages.
Forbush Library: A Brief History
Westminster's library began in 1853 when two private dues-paying membership libraries merged to form the Westminster Library Association. In 1868 the Association received its first municipal appropriation of $50.00. It was not until 1878, however, that a committee (later the Board of Trustees) was elected to manage its activities.
After being housed in various private residences and stores, the collection found a permanent home in the newly-expanded 1839 Town Hall. It remained there until 1902, when it was moved to the newly constructed Forbush Memorial Library. 
Construction of the Original Forbush Memorial Building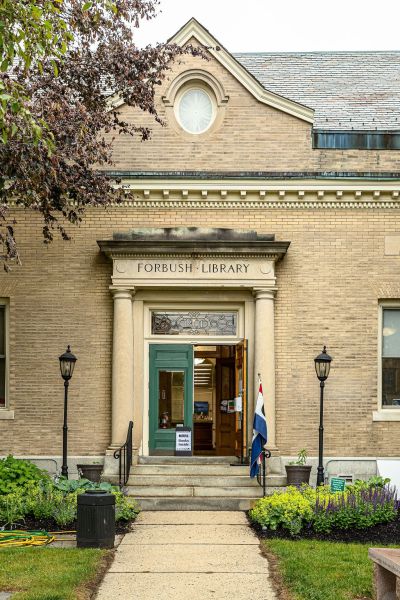 The Forbush Memorial Library building was funded by a $10,000 bequest from Charles A. Forbush in memory of his cousin Joseph W. Forbush. An additional $6,000 was raised from 80 local citizens. The architectural firm was Frost, Briggs and Chamberlain of Worcester. The library was designed for 5,000 books in a town of only 1,348 citizens.
The exterior, finished in yellow brick, is loosely based on an English Renaissance theme. The internal layout is similar to the standard Carnegie-funded designs of this period. It included a central hall, a reading room with a fireplace, and a reference room. All the circulating books were shelved in a room behind the librarian's circulation desk. There were no facilities for children until 1976, when the Town appropriated funds to convert the basement into a children's room.
Building the New Addition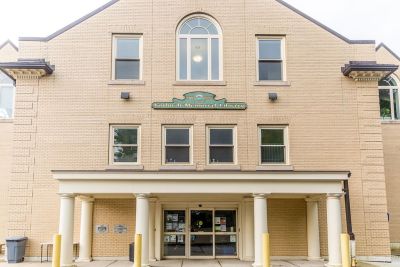 Even with a new children's room, there was still not enough room for the growing collection. In 1995 an extensive application for the Massachusetts library construction assistance program was prepared and approved. The new 11,000-square foot expansion began in 1996 and dedicated in 1997.
Today Forbush Memorial Library occupies a 16,000-square foot fully accessible facility. We are open 41 hours per week and serve a town of just over 8,000. Our collection contains over 53,000 physical items. In a typical year, 72,000 items are loaned to patrons and we receive 22,000 visits to the library.